Requirements: Ability to kill a jungle demon level 195 (43 prayer is strongly recommended along with good combat skills)
Map: refer back to this map when following the steps.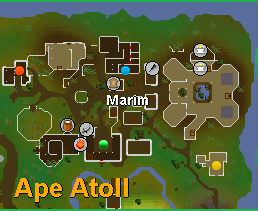 ..
Red:Garkor
Green:Trapdoor
Light Blue: Jailhouse
Yellow: Elder Guard
...
1. Talk to Pirate Jackie in fally. She will teleport you the Gnomes Agility course.
2. From the Agility course, walk north to the tree strong hold and talk to King Narnode. Agree to help the gnomes defeat the jungle demon to start the quest.
3. Teleport to Ape Toll once there pick the lock on the jail cell. Once out walk west to talk to Garkor (use map above for help.)
4. Head over to the shack with the trap door. House located south from jail.(use map above for help.) Climb down the trapdoor and follow the long underground tunnel path until you reach zooknock talk to him he will tell you to go talk to the Guard Elder and will give you a monkey greegree.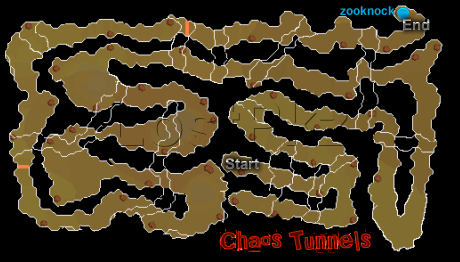 ...
5. Teleport back to Ape Atoll. Head over to the Elder Guard located in the small hut south of the large temple (use map above for help.) you can only talk to the guard if you are a monkey. Click on the your greegree to transform into one. Talk to the elder guard and you will receive a 10th squad sigil.
Note: If you wear the 10th Squad Sigil, you will be teleported to the Jungle Demon.
6. Teleport home and get your food, armour, and supplies to kill the jungle demon.
Note: the jungle demon has 2 combat styles for fighting. Mage and melee. Use protection for mage preferably.
Once you beat the demon. Congratulation you have finished monkey madness.
Reward: Ability to wield Dragon Scimitar